Something nobody understands about the overplayed Rotten Tomatoes critical aggregation score is that it doesn't measure how strong critics believed a movie to be, merely what percentage of critics said they liked a film more than not. A film with tremendous intangibles, say, a civil rights cause attached, unless it's outright horrible, is going to receive a wicked high Tomatometer score. No critic on the positive review fence is risking a Twitter tirade over their two star review versus a bump to two-point five that keeps them in the 98% positive class.
Wonder Women and Black Panther come to mind, if only because they were both "proper social movement" backed superhero movies. Wonder Woman for its first big female superhero movie backed by a female director, and Black Panther, even more so, for being an all-black above-the-line production, and focusing specifically on the history of African slavery and subjugation. It's like having the world's biggest fullback blocking for your movie. Black Panther was not a bad film in purely cinematic terms. It's unfortunate that politics creeps into film reviews, but it's not as if kowtowing was invented by newspaper and magazine columnists suddenly in 2018.
Black Panther has conspicuously and intentionally marketed itself as an atypical Marvel Comic Universe film. More to the point, as a saga of afro-centric pride told under the guise of a superhero film. It's not a coincidence the film was slated for release during Black History Month, nor the obviously and heavily promoted fact that all the key players in the film are African-American with numerous African actors. There have been any number of tie-ins with commercial and social organizations targeted at the black community, causing the film to become much more than a mere costume caper with tons of CGI baked in. Although, it clearly is a costume caper with ton of CGI baked in. The recent Roots reboot did not merit a $150 million production budget. No film is getting out the door without offshore effects farms lending a hand. Largely not black employees, unless the demographics of the Philippines and Korea have changed recently.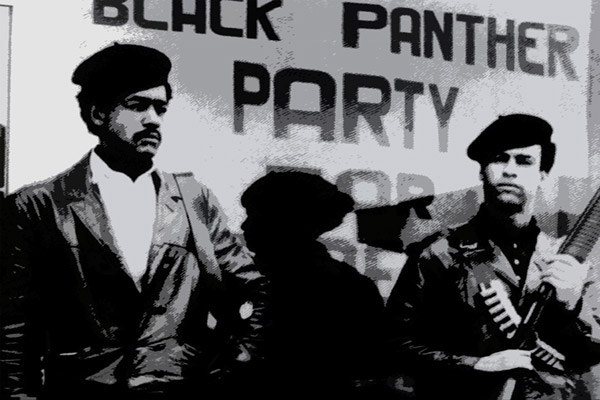 Director Ryan Coogler was specifically chosen for the project because of his credentials as a black-American storyteller. His first big pickup was Fruitvale Station, a film about a young black man shot at a BART station in a case of police excessive force and profiling in Coogler's own hometown of Oakland. It is in fact Oakland that Coogler uses again as a location symbol of black urban blight and consequence of colonialism and slavery in Black Panther. If you've spent time in Oakland, you can understand the archetypal draw. It's your proverbial urban blight. Albeit, the bulk of its black history dates back to 1940's when Southern blacks flocked to the area for assembly line jobs in the war effort. It was actually a desired destination, away from the wholesale segregation and poverty of the South. It turned relatively fast within a couple decades to freeway riddled decay, drugs, public housing, crime, and other benefits not listed specifically in the Great Society brochure..
(***It's the fourth paragraph of this final review before my murder, so be aware that spoilers are about to ensue and you're in now by choice.)
If you review Black Panther as a mere good guy, bad guy, cool battle sequence film, it's worth the watch (in 2D). It's Thor, but Asgard is now central Africa. Though that's not how the movie is being marketed, or the film production's own heralded origin story. Given that Black Panther is demanding to be taken seriously as both a civil rights and afro-pride endeavor, it would be intellectually dishonest not to review it critically as such. And that's precisely where it seems to be aspiring to mediocre, heavy handed, and, at times, nonsensically on the nose.
The premise is that a central African nation known as Wakanda is the world's completely unknown Utopia of advanced cultural understanding, technology, weaponry, medicine, and progressive thought. The otherwise typical African nation gained this position because a large meteor filled with super-powered metal cratered into their land eons ago and became a wellspring of energy and advancement. The Wakandans did nothing to deserve the "vibranium" meteor or the largesse that followed. Think of it as a guy pulling the Lotto numbers and inheriting a fortune. Granted, the Wakandans didn't drink themselves silly and blow all their newfound loot within 12 months, still, it was a random gift. It could've landed in Mongolia and the Wakandans would have lived in dearth and misery and disease moving forward. Or so goes the logic of this premise. Would it have been so hard to construct a superior culture premise based on attention to learning, a safe and sane set of private property rules and ambition? Nope. Vibranium meteor. Affirmative action if you will. That seems faulty for noble black history beginning.
Wakanda are so guarded about being super-advanced that they literally mask their space-age  Star Trek set nation with a facade of sheepherders, agrarian poverty, and people making colorful bead necklaces. To the outside world, they are merely another broke-down African nation. The unmistakable message being that Africa is a junkyard and to hide in a junkyard, you need to look like junk. Thanks, Wakanda, sincerely, the rest of Africa. Not that it's not objectively factual. An I.M. Pei high-rise with proper HVAC in the middle of Africa is going to draw curiosity seekers, if not the half of Ethiopia currently starving to death. Still, for a film about African pride, couldn't you throw out a tourism and marketing bone? Making your kids fake Kwashiorkor to blend into the surroundings says something about the surroundings.
Though Wakanda has technology centuries ahead of the rest of the world, or about six months past whatever Elon Musk is working on in his secret lab, they choose to largely live as traditional African tribesmen, err, tribespersons. A life in harmony with ancient pagan religions, ancestry devotion, and brightly colored headdresses and wicked ass lip plates, which is gauging for the truly committed. More pertinent to the plot, the king of the nation is determined in similarly tribal manner — knife fight among relatives. Is fratricide by impalement really the most enlightened method by which to choose a leader of a socially progressive nation? Not that Clinton vs. Trump with Bowie knives wouldn't have been an improvement on almost every level, but we expect more from Wakanda, a land of incredibly soul-filled ENFJ Givers on the Myers-Briggs chart. This key plot element seemed excessively violent and primitive, and not the good parts of primitive, like daily sex.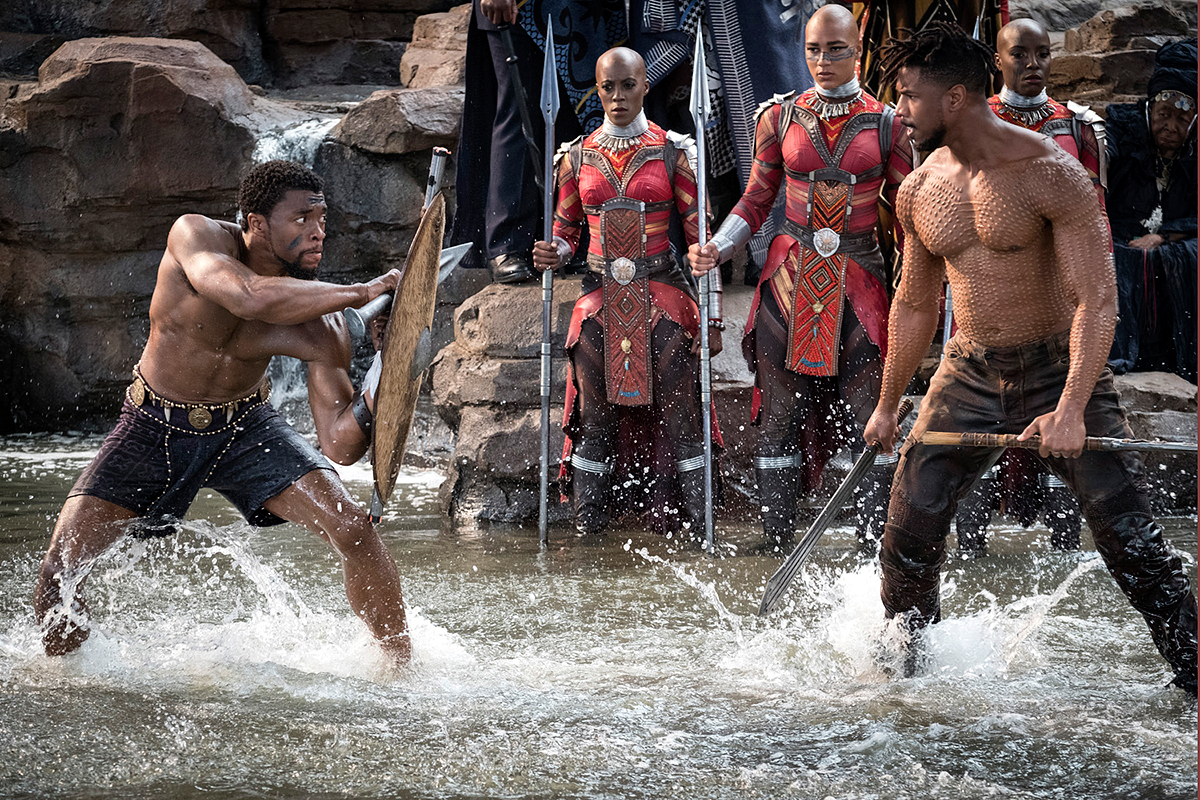 There's one obligatory white guy in the film. Martin Freeman returns as a dutiful but incredibly humane American CIA officer, despite being British and reminding everybody of The Hobbit. His job in the film is to be the token cracker. The reverse racism role of the minstrel if you will, the comic relief goofball. One of the more in-your-face social messages of the film is how black Africa was ruined by white "colonizers". Not entirely far fetched, but entirely non-nuanced and simplistic for an intellectually and tech-savvy people. Freeman's character exists to be ridiculed as a "colonizer", including one moment when he's told to shut up basically because he's white, even though he clearly has a key piece of information vital to the upcoming conflict. No doubt, this whitey takedown has a cathartic effect for black audiences. But is the lowball comedic treatment of the rather inflaming topic ideal in consideration of a film purporting to be groundbreaking? The Wayans can make ten more movies about how stupid white guys are and nobody would blink an eye, or watch. The Black Panther treatment of the same cheap meme comes off incredibly ham-fisted in relation to how the director wishes you to take his message to heart. That seems picky, but it's not.
Michael B. Jordan portrays the villain, the symbolic victim of black oppression, the youth from Oakland who has suffered under the "colonizers". Though it's unclear what the colonizer crackers did to Jordan because his great tragedy came at the hands of his own family members. His Wakandan dad moved him to Oakland of all places.  Maybe because Ryan Coogler gets ten bucks every time he mentions his hometown in a movie. Jordan's character's father betrayed his king and duties. That kind of seems like it's on you. Not the Irish guy down the block. Jordan's character grows up to become a cold-blooded, merciless, killer. He could've become a great civil rights leader, turned his rage into Malcolm X level inspiration, but a bloody reign of state sponsored terror made more sense. Is there any ounce of nobility in that? Like learning Larry Nassar was himself molested as a kid. Don't care. Pull the lever.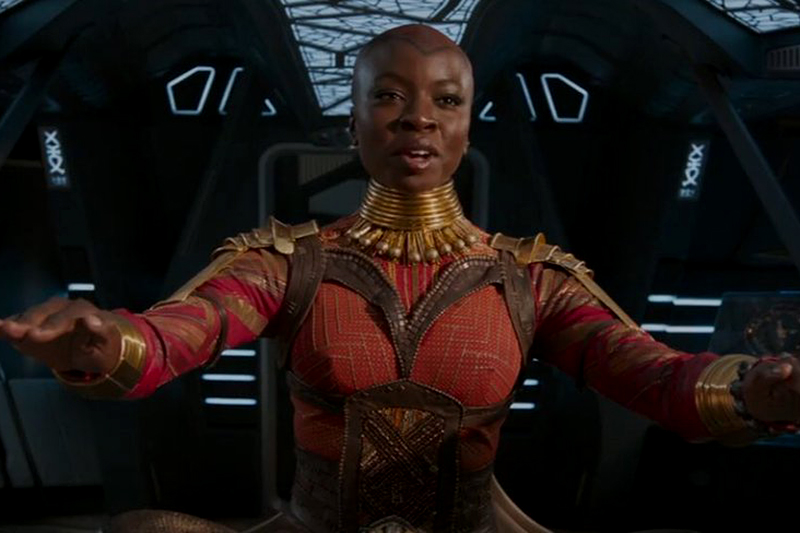 You could point to any number of moments in the movie where the narrative comes to a screeching halt to deliver a quick nugget of whitey racism, but the moment where Jordan's defeated character refuses life saving medical treatment because he would be jailed afterward, takes the martyrdom to the nth degree. Jordan denies help because "like his ancestor slaves who jumped to their death from the ships taking them to bondage" he knew it was better to die free than live a slave. Apparently the speech was so moving, his guilt-ridden cousin King allows him to bleed internally to death. After a beautiful sunset, naturally. That's an odd way to say you're sorry. It's a magical movie sentiment, even if historically not quite supported, but you really should take injured people to the E.R. even if they ask you not to. Think of all the great writings he could do in prison. That's where Mandela did his best work.
The history of black African slavery isn't so muddled as it is multi-partied. That is, everyone ever involved is dirty. The landscape of guilt isn't limited to stogie-smoking plantation owners. Africa was subjugated by hordes of pale colonizers who could barely tolerate the sun in good measure because the region's own tribal discord caused them to fight and align up against one another. Slavery existed in Africa well before the white man showed up, and it exists to this day in numerous nations.  The fact that ugly money-grubbing Westerners turned it into an insidious multinational business operation remains unchallenged and a massive stain on their permanent  records. Most Americans by number were not in any way involved in the slave trade or slave ownership, but most Germans were not directly involved in the rounding up and slaughter of Jews; they all were aware in some manner it was taking place. That's a forever shame connection. In short, there's more than enough context for black people to feel tremendous anger even toward cute as a button Martin Freeman trying to be helpful and even taking a bullet for a black sister. But what is the point of doing that flippantly in a Marvel movie?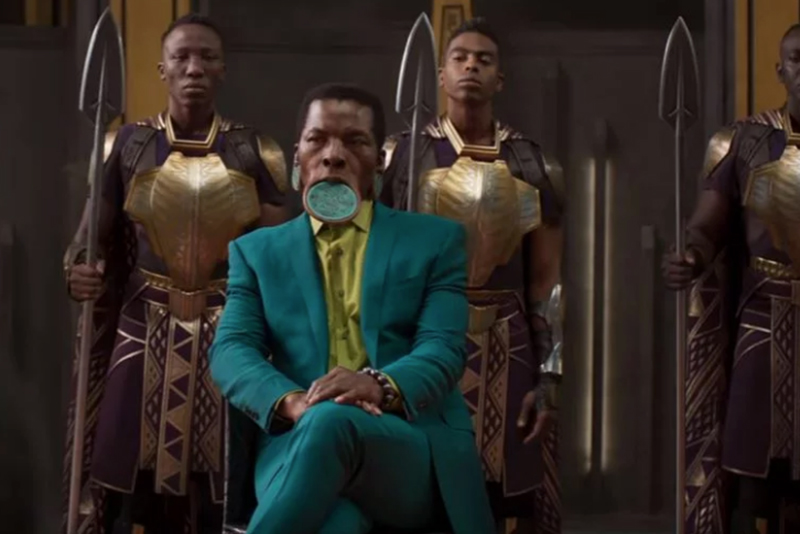 Even with no personal connection to this blighted past, most white people feel guilty as hell about the black experience in America. They're prone to want to go overboard on public adulation for films riddled with white guilty opportunities. That goes trebly so for people in Los Angeles and New York who drive the media and arts culture. Ask people at a Brentwood Pilates studio what they thought of the Black Panther, and you'll get a one-hundred percent dramatically positive review, even though most haven't seen the movie. They're battling one another to express how much the film moved them all on social media. The white folks that don't feel guilty about black slavery and institutional racism are largely bigger jerks who can't concede to the lingering impact of large-scale historical injustices. Those objectively in the middle who have the ability to be perfectly honest have blogs such as Terrible Words.
The world of people is a story littered with travesties, subjugation, and violence. Read the bible sometime and realize war and rape and slavery is nothing new. Remember when God had to insist people stop murdering each other because the entire world was like the gang-infested neighborhoods of Chicago? Everybody in charge or in power seeks to exploit those exploitable. For the same reason Hollywood producers are prone to take advantage of ingenues off the bus and desperate for a break. Nations are largely either oppressors or oppressed at any given moment in time, though all have shown penchant for corruption and amoral behavior when given the opportunity. African nations being no different. There is no special people on this planet who've achieved an unlimited ability to work around hardwired eons of base human survival instincts.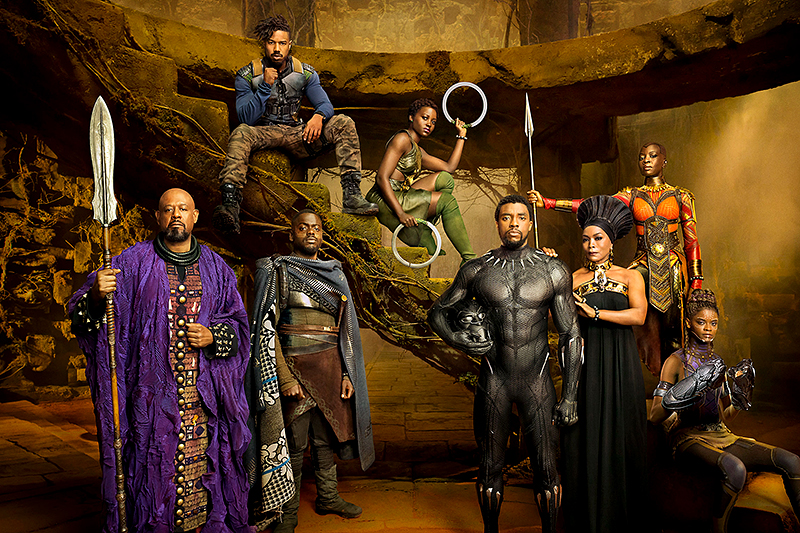 There's no doubt that the Black History month staples of greatness, the Harriet Tubmans and Rosa Parks, have been amply covered. Though you wonder if simply inventing an entirely fictitious enchanted and advanced land in central Africa that will teach the entire world to be caring and thoughtful is a noble origin story. Not precisely Hidden Figures in terms of basis in reality, and you'd think, feelings of real pride. There's no reason to discount the puerile thrill of revenge porn, even if it's racial injustice legacy porn. That's pure, cathartic entertainment. But is it worth lauding simply because it provides a happy ending? You wouldn't think artistically,  no. Not to near one-hundred percent levels.
Stripped of its overt preaching and reverse racism drops, Black Panther is a fine little MCU action flick. It has battle rhinos, sweet car chases, and a hero who the bad guys keep shooting bullets at despite knowing full well he's bullet proof. The need to turn it into a rallying cry for black pride simply by mirroring the subtlety of a Black Lives Matter march seems pretty unjustified, if not downright cynical. Most likely promoted by the colonizers at the studio, laughing all the way to their white banks.
FOLLOW TERRIBLE WORDS ON TWITTER AND FACEBOOK AND YOU WILL LIVE FOREVER!